Clinique Matignon treats customers to cocktail party
Joann was invited to the Clinique Matignon (http://www.clinique-matignon.com/en/) in Paris by lovely Rose, the establishment's manager, to an after-hours cocktail party last Thursday.
Clinique Matignon is an upscale cosmetic medicine and surgery clinic located in a very chic neighborhood of Paris (5 avenue Matignon, 8th arrondissement) and specializing in outpatient surgery.  A mecca of cosmetic pampering and luxury in a plush setting, the clinic uses cutting-edge technology and state-of-the-art equipment.  It offers a wide variety of services, from face lifts and definitive hair removal by laser, to FUE hair transplantation and colon irrigation, all in a wonderful, warm and relaxing atmosphere.
The cocktail party was attended by around 30 guests, including representatives from La Roche Posay and one of Spain's home-grown skin care brands, MartiDerm, owned by Laboratorio Martí-tor from Barcelona, which was founded some 50 years ago by a renowned pharmacist.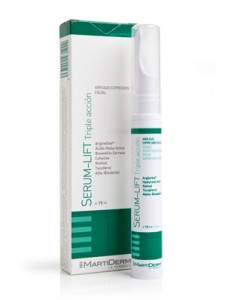 The guests mingled and mixed over delicious cocktails and champagne.  Joann was not only able to drum up business for El Atril, her nephew's restaurant in Barcelona (http://www.atrilbarcelona.com/), – yes, beautyeterm is awash with all sorts of good advice so stick around – but she also sent a bunch of interested ladies to her favorite shoe store, in search of a pair of boots she was wearing that night.  She did not come home empty-handed for her trouble.  The very charming and gracious Marjorie from MartiDerm showered her with the brand's sample products.  Joann was particularly fond of KINETINOL crema-gel and SERUM-LIFT Triple accion.
Formulated for all skin types, KINETINOL Crema-gel is a nourishing, moisturizing and repairing anti-wrinkle cream gel.  It works to treat and prevent signs of photo-induced aging: wrinkles, rough skin texture and pigmentation.  Contains two anti-aging elements, retinol and kinetin, which is a natural plant growth factor.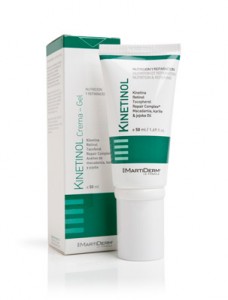 The second product, a light-textured moisturizing serum, has relaxing, firming and densifying properties.  When used on a regular basis, it works to deliver a triple effect, relaxing the skin, moisturizing deep-down and on the surface, and filling in the wrinkles.  The formula contains Argireline®, Hyaluronic Acid, Retinol, Tocoferol and Alfa Bisabolol.