Beauty Talk – Dictionnaire de la parfumerie, de la cosmetologie (Bilingue Francais/Anglais – Anglais/Francais) (French Edition)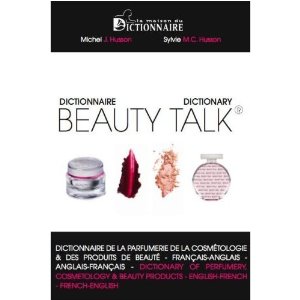 A great new dictionary for cosmetic translators. Read my review on Amazon.com.
"At long last – a dictionary for beauty industry translators!
Finally a specialized dictionary in an area of translation that so far has had very little bone fide research! Beauty Talk Dictionary of Perfumery, Cosmetology & Beauty Products is a relatively comprehensive (though non-exhaustive), up-to-date guide to cosmetics lingo in French and English. Intended as a quick, at-a-glance reference, it contains valuable entries divided into themes to help find concepts, related words and expressions per subject area (body, botanical ingredients, colors, essential oils, eyes, face, hair, lips, packaging, perfumes, skin, skin and sun).
Equivalents are supplemented by definitions in both languages – a wonderful source of context and inspiration – although many definitions in English seem to be rather narrow translations of their French counterparts and some lack proper punctuation. Typographical errors notwithstanding, the authors deliver a long-overdue goldmine of ideas for a sector of industry with a highly technical discipline-specific vocabulary and codified terminology.
As a professional translator specializing in beauty care, I did immediately look for my personal pet-peeve terms: décongestionner, désincruster, défatiguer, dégonfler, désengorger and drainer! I did not find them all but I still think that this dictionary will prove a wonderful starter glossary for the beginner and a handy lookup tool for the seasoned language expert in the field.