Updated Fire and Ice Quiz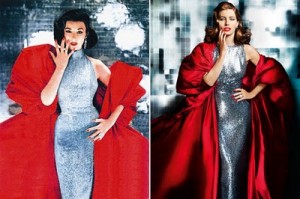 In 1952, Revlon launched an iconic ad for its Fire & Ice Lipstick and Nail Enamel collection. One of the most memorable ads in fashion history, it featured the famous model Dorian Leigh photographed in a sparkling silver sequined gown and a red cape. The image was accompanied by the unforgettable tagline "Are you made for Fire & Ice?" and by a full-page quiz that asked a series of what were at the time considered racy questions.
The collection was revamped in 2010 with Jessica Biel reinterpreting the absolute glamour once portrayed by Dorian Leigh. The modern take of the ad showcased a softer version of makeup but came with no (as far as we know) updated version of the quiz.
Beautyterm thought it might be fun to try to rewrite the quiz in such a way as to better reflect the 21st century woman's cheeky but overtasked persona.  So we came up with a slightly more down-to-earth, maybe less Jessica Biel and more Sara Jessica Parker in 'I Don't Know How She Does It' rendering of the Fire & Ice Quiz.
Go to http://bit.ly/J8iPcm to read all about it or look for us on Facebook, Twitter and Google+.